PNEUMATIC IMPACT PRESSES
Bar Marking | Manual Impact Press | Pneumatic Press | MFR Series

Variable position mounting where compact size with full power capabilities is required
*(Shown with optional angle supports)
MB19VP
.5 tons (0-600 kg)
Length: 9 in (405mm)
Weight: 4.5 lbs (11.5 kg)
Air Pressure Required: 40-50 PSI

MB21VP
3.75 tons (0-3500 kg)
Length: 16 in (405mm)
Weight: 25 lbs (11.5 kg)
Air Pressure Required: 60-90 PSI

MB35VP
8.5 tons (0-7500 kg)
Length: 26.8 in (405mm)
Weight: 113 lbs (11.5 kg)
Air Pressure Required: 90-100 PSI
MB19
.75 tons (0-700 kg)
Height: 14.8 in (375 mm)
Weight: 35 lbs (16 kg)
Table: 41/2 x 41/2 in (110 x 110mm)
Throat: 65⁄8 in (170 mm)
Air Pressure Required: 40-50 PSI

MB21
3.75 tons (0-3500 kg)
Height: 24.8 in (630 mm)
Weight: 120 lbs (55 kg)
Table: 63/4 x 63/4 in (170x170 mm)
Throat: 101/4 in (430 mm)
Air Pressure Required: 60-90 PSI

MB35
8.5 tons (0-7500 kg)
Height: 33.5 in (850 mm)
Weight: 352 lbs (160 kg)
Table: 95⁄8x 9 5⁄8 in (245x245 mm)
Throat: 113/4 in (300 mm)
Air Pressure Required: 90-100 PSI
Numbering Heads
Sossner's precision engineered numbering heads are built with today's "space age" technology and alloy steels to ensure outstanding life at a lower total cost. Standard heads are stocked and all styles of custom heads are available upon request.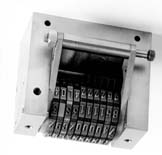 Numbering Heads for:
* Indent marking - Hot stamping - Embossing - Roll Marking and special jobs
* Character sizes: 1/32" to 3" numbers or letters in gothic, low stress, dot face, bar code, and other style characters.
* Wheels: 1 to 28 wheels per head with up to 90 characters per wheel.