BAR MARKING
Bar Marking | Manual Impact Press | Pneumatic Press | MFR Series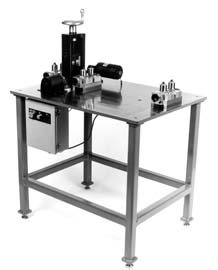 Innovative technology from Sossner has produced a bar marking machine that will outperform any comparable equipment available to industry.
The exclusive Sensor Control System is the brain of this machine. Starts and stops, even emergency stops, are all controlled automatically.
A more compact and efficient AC powered, DC motor drive delivers variable speeds without gear or torque changes. At both the beginning and the end of the bar, speed is increased/decreased slowly without reducing the force of the torque.
You can mark both top and bottom simultaneously if you desire. A heavier face for stability, easier drive and marking wheel changes complete the unit.